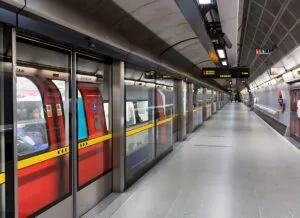 In recent years, there has been a growing trend towards developing innovative solutions for public transit systems. One such solution is the Platform Screen Doors (PSDs) technology, which is becoming increasingly popular across the world. Aurionpro Toshiautomatic a leading manufacturer of PSDs, has been at the forefront of this technological revolution as well as in manufacturing segment.
As an OEM, Aurionpro Toshiautomatic has been producing cutting-edge PSDs that can be customized according to the needs of different public transit systems. The Make in India initiative has further boosted the company's efforts to promote local manufacturing and provide high-quality PSDs to Indian transit authorities.
ATAS: Best Products In Smart Transit
The Aurionpro-Toshiautomatic partnership has brought about a new generation of smart transit solutions that enhance the safety and efficiency of public transport systems. The Platform Screen Doors manufactured by the company are designed to provide a safe and seamless transition between trains and platforms. They are equipped with advanced sensors and control systems that ensure precise alignment and synchronization with the train doors, resulting in reduced waiting times and improved passenger flow.
Platform Screen Doors
Apart from the safety benefits, Platform screen doors also help in reducing energy consumption and noise pollution. By enclosing the platform area, they prevent air conditioning from escaping and keep the noise levels within acceptable limits. This makes them an ideal choice for urban areas where noise pollution is a major concern.
In conclusion, Aurionpro-Toshiautomatic's Platform screen doors have emerged as a game-changer in the public transit sector. Their innovative features, such as customization options, smart control systems, and energy-efficient design, have made them the preferred choice for transit authorities across the globe. As a leading manufacturer of PSDs, ATAS is committed to promoting local manufacturing and contributing to the Make in India initiative. For queries related to this product, visit : https://aurotoshi.com/customer-support/
For upcoming event and news : https://aurotoshi.com/events-and-news/