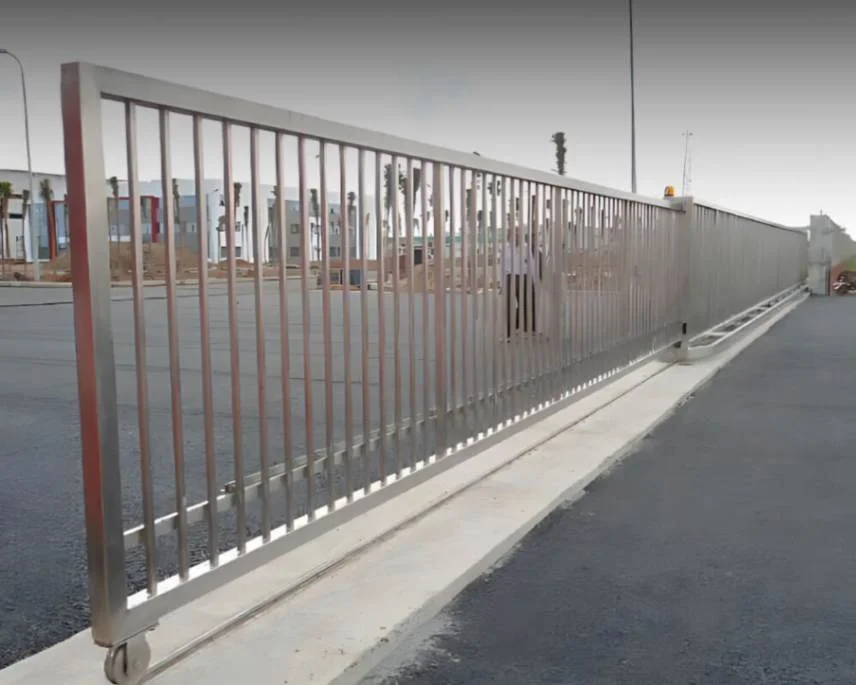 Automatic or Motorized sliding gates are becoming more and more common for both domestic and commercial use. Unlike manual gates, motorized gates have several applications, including access control and perimeter protection. You must get one for security reasons if you live in a tall building.
An motorized sliding gate opener is a device that manually opens and closes sliding gates made of metal, wood, or vinyl. Automatic gate openers can operate swing-up gates seen on farms and estates and gates that glide open. Some remote controls are used to operate motorized gate operators, while others use manual levers. Some contain safety sensors as well.
These gates can be installed across the front or back of the property to prohibit both vehicles and humans from entering. You may be unaware, but installing motorized sliding gates can help your small business save time and money.
What is the purpose of a sliding gate motor?
The primary function of the gate is to mark the borders of your private property, whether it is your home or place of business. As a result, it provides safety and protection, but it is also critical to blend technology and pragmatism to ease your life. Visit our home page for more automatic solutions: Aurotoshi
How often have you had to manually open and close your gate while driving in the rain, wind, snow, or scorching summer heat? Stop wasting time and choose the motorized sliding gates that best meets your needs!
Motorized Sliding gates run all types of sliding gates.
Sliding gates are distinguished by a moving component that runs parallel to the gate and is a few millimetres above the ground. It is a valuable solution for individuals with limited outside areas but enough side room to slide the door.
There are three types of motorized sliding gates:
Sliding gates with a single leaf that move on opposing sides of the gate; Two equal or asymmetrical leaves glide on opposite sides of a double-leaf sliding gate;
A telescopic sliding gate's two modules pass each other as it opens and closes.
After determining the gate model, the weight of the leaf or leaves and the gate size must be decided.
Security
Security is one of the most important considerations when selecting an automated slide gate opener for your property. Because it is more difficult to force open motorized sliding gates, they are more secure than swinging gates. They are designed to keep people out of the property while allowing them to exit in an emergency. Remote gate control lets you track who enters and exits the area.
Because they may be set to open and close at certain times, you have complete control over who gets access to your property. Furthermore, in incidents where people have been attacked outside of their homes while opening the gate, an automated slide gate opener can reduce the likelihood of this happening by 50%.
Less Space Required
Because of its lower footprint than traditional swinging gates, motorized sliding gates are becoming increasingly popular. This is especially useful for people who have a small driveway or a small amount of land. The gates provide numerous benefits to the functionality and look of your property. They alleviate the stress of physically opening and closing your gates and add an air of refinement and sophistication. Motorized sliding gates are an excellent feature with several benefits, whether you have a small or large property.
Convenient
Automated systems have become popular in recent years because they allow things to run more smoothly and with less effort. This is because they provide a convenience that manual approaches can only sometimes match. Automated gates are handy since they eliminate the need to exit your vehicle to open or close the gate, which can be difficult or even dangerous in severe weather. You don't have to get out of your car to open the gate because it can be opened and closed with the push of a button. They are helpful because they are easy to install and can be controlled remotely. 
Do Automatic Gates Work?
Without a doubt, robotic gates have numerous advantages. They may provide security, add a touch of luxury to your home, and are functional. But are they truly worth the money? If security is your primary concern, an motorized sliding gates could be a good investment. They may give an extra layer of security to your home or business. They may also have security features such as cameras and alarms to prevent possible offenders. Aside from features like remote control operation and motorized opening and closing, motorized gates can make entering and exiting your property more accessible.
Wrapping Up
An automated mechanism, usually a remote control, opens and closes a gate known as an motorized sliding gate. They typically employ a motor to open and close the gate to help ensure that it opens and closes properly. Sensors and other features are also possible. A well-manufactured and installed motorized sliding gates can last 15 to 20 years with frequent servicing and appropriate maintenance. It can last over 15 years if not damaged and subjected to typical wear and tear. The price is affected by the infill, the type of gates, and the motors used.