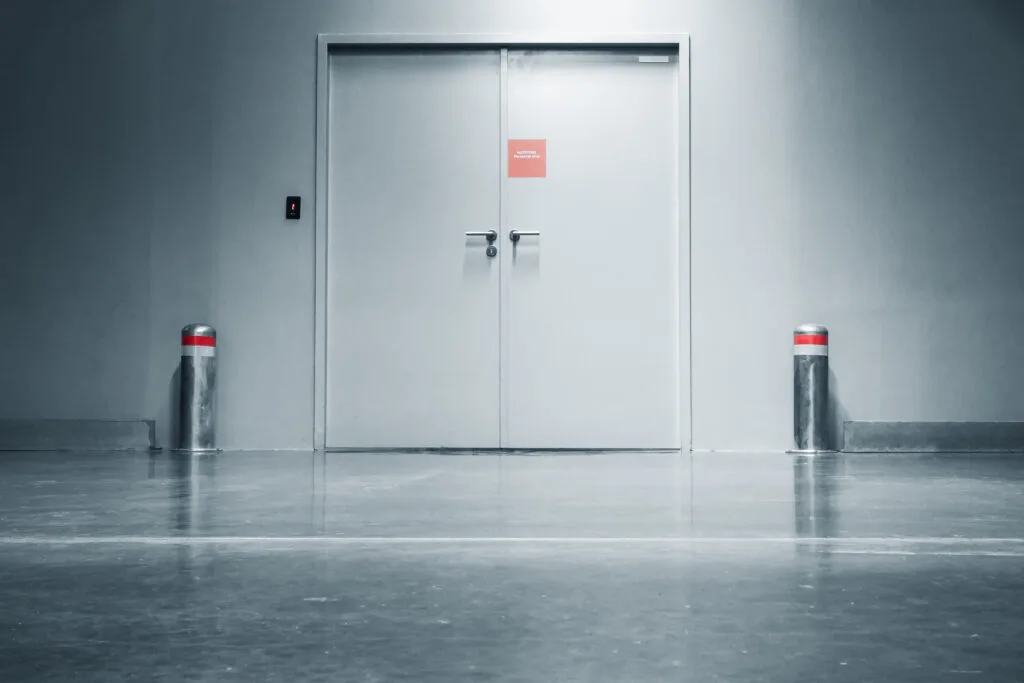 Most people worry about the security of their buildings. A space can be used for work, lodging, or recreational activities, among other things. The flames of the fire are dangerous. Fires can occur without warning. The cause of the fire includes things like faulty electrical equipment. Fires can seriously harm both property and people. HMPS Fire Doors are increasingly being installed in place of standard doors.
Durability is guaranteed by the high-density honeycomb core used in HMPS Fire Doors, which is laminated under pressure and has interlocking lock seam edges. Doors come in gauges of 20, 18, and 16 and are made of rust-resistant galvanized steel.
All about HMPS Fire Doors
HMPS Fire Doors made of hollow metal pressed steel (HMPS) are renowned for their resilience, excellent corrosion resistance, and a high degree of dimensional accuracy. HMPS fire doors are robust and durable based on both sides and are aesthetically pleasing. These doors come in various sizes and can be highly durable or painted to suit the customer's needs. They are most effective when used in both inside and outside commercial settings. For more visit our homepage: Aurotoshi
The materials used to make HMPS Fire Doors include CRCA, Galvanized, Zincalume, and Stainless Steel Sheets. They also include a wide range of standard hardware finishes. These Doors are made using a one-line production process of the highest caliber. Doors come in single-sheet and double-sheet varieties, along with a range of sheet thicknesses and section profile options.
Steel doors and frames have been shown to outperform other materials in terms of strength and durability. This excellent quality is due in part to steel's inherent strength. In its natural state, steel can endure more innate and artificial abuse, is more sanitary, and is easier to maintain than the other materials evaluated- wood, aluminum, and fiberglass.
Features and qualities of HMPS door
Long-Lasting Design
Simple to Customize
Secure and Quiet
Very Reliable
Saves space
Low-Cost Free Of Termites & Pests
Protection from thieves
Defense Against Atmospheric Conditions
Installing is simple
Places where HMPS doors are used and installed
Projects for Military Housing
Sanitation initiatives
Disaster Housing Projects
Governmental Projects with a Budget
Site offices and modular housing
Programs for Temporary Housing
Road Projects
Labor & Staff Colonies
All about HMPS Fire doors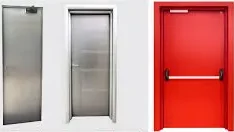 HMPS Fire doors are specialized doors that have undergone environmental testing and were primarily designed to endure hooting flames for as long as necessary. They are an essential component of a fire-resistant strategic plan because they allow buildings to compartmentalize and postpone the fire from spreading from one area to another.
A fire-resistance rating, which specifies how long the doorset and its equipment will be capable of surviving smoke and fire (either 30 or 60 minutes, based on the rating), will be given to certified fire doors. In addition, they have intumescent seals or strips installed, which expand to close the space between the door and frame.
Features of Fire doors
HMPS Fire doors are composed of many different parts. The door is usually made of solid wood but is sometimes covered in fire-resistant glass. This glass should withstand heat exposure in a fire test for at least 60 minutes before reaching a temperature high enough to soften it.
The thermochromic seal or thermochromic strip will be installed around the door's perimeter. When temperatures exceed 200°C, an intumescent seal chemically expands to secure the gap between the door and frame. These seals (or strips) are typically rated for 30 or 60 minutes.
Installing fire doors in high-risk areas, such as the kitchen or rooms with many electrical devices, is recommended for private properties. If your estate is new, it should be highly regulated, requiring that particular doors be fire doors – check with the developer on this. Fire doors are currently only required by law in Houses in Multiple Occupation (HMOs).
Liability for business or non-business properties falls on whoever is deemed responsible for that property, usually the employer.
Comprehensive risk analyses must be performed, and it is best to seek professional assistance with all fire-safety regulations. Passive fire protection and fire protection require more than just HMPS fire doors; exit points, lighting, warning systems, and equipment checks are also necessary.
When selecting a door, it's critical to understand the various specifications. For example, the FD code specifies how many minutes a door can withstand a fire.
Numerous deaths throughout fires are caused by smoke inhalation rather than physical touch with the flames. Keeping this in mind, look for a door with cold smoke enclosures. These must be contained within the thermochromic seal. Exceptions may be made where smoke leakage is critical for early fire detection.
Application of fire door
Consider the drivers of the codes when determining where to anticipate fire-rated doors within a building. First and foremost, the codes are intended to provide life safety by ensuring that inhabitants have a safe path of entry and exit in the event of a fire. As a result, fire-rated doors are frequently found at egress points to create escape paths through entrances, exits, lobbies, and stairwells. Second, fire-rated doors may be needed in outdoor applications such as curtain wall systems, storefronts, and office assemblies to avoid the fire's growth, both to nearby buildings and other building areas.