Efficient traffic management and enhanced security are paramount for any company. One solution that can address both these needs is the installation of high-speed boom barriers. These automated systems are designed to regulate vehicle access, ensuring smooth traffic flow while providing robust security measures. 
At Aurionpro Toshi Automatic, we offer a range of high-quality barriers that combine cutting-edge technology with reliability and durability, making them the ideal choice for your company's needs. Continue on down below to find out why – 
Boost Traffic Management with High-Speed Boom Barrier Operation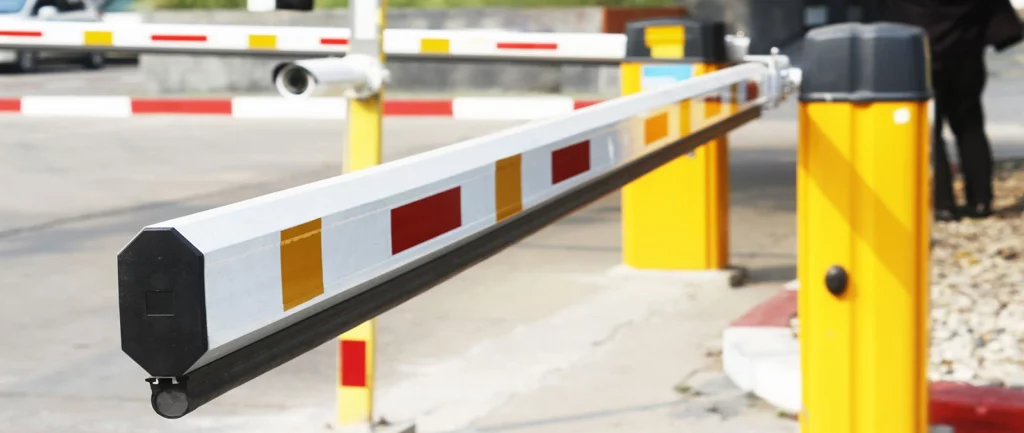 Efficient traffic management is vital for any company, and our high-speed boom barriers are designed to meet this need head-on. Engineered to operate swiftly, these barriers facilitate seamless entry and exit for vehicles, ensuring a smooth flow of traffic. With impressive opening and closing times as low as 0.6 seconds, these barriers minimize disruption, even during peak hours of high traffic volume. 
By investing in our high-speed boom barriers, your company can optimize traffic management, enhancing operational efficiency, reducing congestion, and ultimately improving productivity and customer satisfaction.
Imagine a scenario where vehicles can effortlessly pass through your company's entrance or exit without encountering long wait times or frustrating delays. Our high-speed barriers make this a reality. With their rapid operation, vehicles can smoothly enter or exit your premises, eliminating bottlenecks and ensuring a continuous flow of traffic. 
Whether it's employees arriving for work, visitors accessing your facility, or delivery trucks making timely drop-offs, the high-speed operation of our boom barriers ensures that everyone can move swiftly and efficiently, saving valuable time and reducing frustration.
Uncompromising Security Measures
Ensuring the safety and security of your premises is a top priority. Our high-speed barriers provide robust security measures to safeguard your company's assets. Equipped with advanced control systems, these barriers offer reliable access control, allowing only authorized vehicles to enter your premises. 
With features like boom breakaway arms and integrated obstacle detection systems, the barriers can effectively prevent unauthorized entry and protect against accidental collisions. Invest in our high-speed boom barriers to reinforce your company's security and gain peace of mind.
Customizable Solutions for Every Requirement
At Aurionpro Toshi Automatic, we understand that every company has unique requirements. That's why we offer customizable solutions to tailor the high-speed barriers according to your specific needs. 
Our expert team will assess your site and recommend the most suitable barrier model, taking into account factors such as site layout, traffic volume, and security considerations. With options for different boom lengths, accessories, and integration capabilities, you can customize the boom barriers to seamlessly fit into your existing infrastructure and access control systems.
Durability and Low Maintenance
Investing in durable and low-maintenance solutions is crucial for any company. Our high-speed barriers are built to withstand rigorous use and harsh weather conditions, ensuring long-term reliability. 
With their robust construction and scratch-proof coating, the barriers can maintain their functionality and appearance even in challenging environments. Additionally, our boom barriers require minimal maintenance, reducing downtime and associated costs. Choose Aurionpro Toshi Automatic's barriers for a reliable and hassle-free solution that will serve your company for years to come. 
Seamless Integration with Access Control Systems
Efficient integration with your existing access control systems is essential for smooth operations. Our high-speed boom barriers are designed to seamlessly integrate with various third-party access control systems, providing a comprehensive solution for your company's security needs.
Whether you use proximity cards, RFID technology, or biometric authentication, our barriers can be easily configured to work in harmony with your preferred access control methods. Experience a seamless and secure access control system with Aurionpro Toshi Automatic's high-speed barriers. 
Trust Aurionpro Toshi Automatic for Superior Quality
When it comes to high-speed boom barriers, Aurionpro Toshi Automatic is a name you can trust. With our decades of experience in the industry, we have established ourselves as a leading manufacturer of entrance automation and security solutions.
Our commitment to quality is reflected in our ISO certifications, ensuring that our products meet the highest standards. By choosing our barriers, you are not only investing in superior technology but also in the expertise and support of a dedicated team. Experience the difference of Aurionpro Toshi Automatic's high-speed boom barriers and elevate your company's security and efficiency. 
In conclusion, high-speed barriers are a crucial investment for any company looking to enhance traffic management and bolster security. With their rapid operation, robust security measures, customization options, durability, seamless integration, and superior quality, Aurionpro Toshi Automatic's barriers are the perfect choice. Visit our website, aurotoshi.com, to learn more about our products and contact us for a consultation. Elevate your company's security and efficiency with high-speed boom barriers from Aurionpro Toshi Automatic.