The necessity for a secure and dependable home security system has become more and more
pressing as crime rates continue to rise. To ensure the safety of ourselves, our families, and our
belongings, many homeowners are now choosing to install automatic gate systems in their
homes.
Getting an automatic gate installed in Malaysia has become both accessible and easy.
It can be installed on gates made of various materials, including wrought iron, aluminum,
stainless steel, or even wood, with just a few adjustments.
Adding an automatic gate to your home can be an excellent investment. It can increase the
appeal of your property and provide excellent benefits. You can customize the design and
sliding mechanism to fit your unique needs. Our latest blog explores the five advantages of
getting an automatic gate and why you should consider installing one in your home.
Benefits of Automatic Gates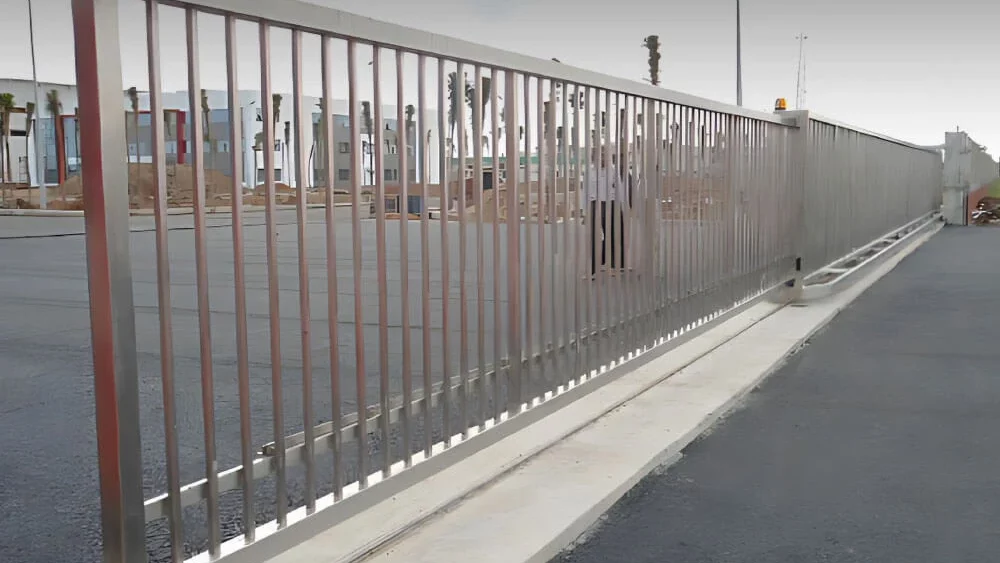 An auto gate system installed in your home can protect your family and possessions.
Automated gates provide a physical barrier to outsiders, requiring a remote, switch, or card to
open. This ensures that only those who are authorized to enter can do so.
It also prevents children or pets from accidentally straying too far from the safety of your home. Here are five key points that will inform you about Automatic Gates's benefits.
Control who can come to your home: Have you ever felt you needed more privacy or
safety? Automatic gates can help you maintain better security and keep out unwanted
visitors. With an automatic gate, you can control who comes in and out of your property,
offering you the peace of mind that comes with knowing your home is secure.
Easy entry: Automatic gates can be a great way to manage access to your property.
They offer a secure barrier around your property and can be opened with a single button.
Additionally, you can attach several accessories, such as a keypad, to the gate, enabling
you to set passwords and get alerts when someone is at your gate. Moreover, you can
establish a connection with your home's intercom or your phone for easy access.
Provides protection: An automatic gate can provide your family with added security
and convenience. It ensures that only those you have authorized have access to your
property while keeping unwanted visitors away. This is especially helpful in homes with
children and pets, as it helps to keep them safe and out of harm's way while also ensuring
they don't wander off. Invest in an automatic gate to ensure your family is safe and secure.
Enhances curb appeal: As previously stated, automatic gates are an excellent way to
improve the look of your home. There is an array of automatic gates to select from, and
depending on the company you choose to work with, you may be able to customize the gate to your desired shape, color, and size. For example, on one of our past projects, a client stand out from other gates in the neighborhood. Visit our home page: Aurotoshi
Increases property value: Automatic gates can provide protection for you and your
family while increasing the attractiveness of your home. This can be an advantage both now
and when it comes time to sell, as prospective buyers will be more likely to be drawn to your
property than those without it. The advantages you will experience as a homeowner can
also be enjoyed by future owners.

Is it worth installing Automatic Gates?
Automatic gates have various benefits, including convenience, aesthetics, and heightened
security. But are the extra costs involved in their installation justified? If safety is your top
priority, an automatic sliding gate may be worthwhile. These gates can provide an additional
level of security to your property.
Automatic gates can be installed with additional security measures such as cameras and alarms
to help prevent trespassing. They can also be operated by remote control, making it much
quicker and easier to come and go from your home. If you have a lengthy driveway, an
automatic gate could save you a great deal of time.
An automatic sliding gate is a type of gate that is opened and closed with the aid of a motor and
usually a remote control. It usually features sensors and other features to help ensure it
functions properly and can last up to 15 to 20 years with proper servicing and maintenance.
Sometimes, it can last up to 15 years if not damaged and exposed to regular wear and tear.
Conclusion
These are the top 5 benefits of automatic gates, and if you're ready to install one in your home,
Access Gates & Doors is the place to go. It is essential to protect the most valuable asset you
own – your home. Installing surveillance cameras, alarm systems, and automatic gates are all
adequate security measures. An automatic metal gate not only adds to your property's aesthetic
but also provides numerous benefits, making it an excellent investment for homeowners.
Advanced technology is becoming more and more commonplace in our lives, and the trend is
being seen in the real estate market. Home buyers are beginning to look for homes with
automated gate systems, making it simple to safeguard the property and add to its overall value.